your safety is our #1 priority
HOW TO USE LID:
1. Peel foil, center and place lid over the top of your cup, bottle or can.
2. Fold down sides and press along edge to secure lid to your drink.
3. Push a straw through middle of lid.
4. When finished, remove lid from drink container. Be careful as the foil may have sharp edges.
NEVER LEAVE YOUR DRINK UNATTENDED
Need Help at 45 East? Text Us!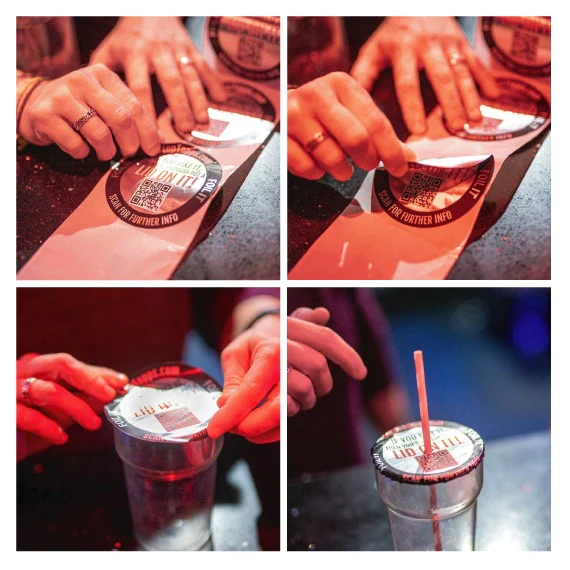 Find a trusted FRIEND or STAFF and tell them you think you have been spiked.
DO NOT CONSUME ANY MORE OF YOUR DRINK.
If you do not have a trusted friend with you, our SECURITY & SAFETY MATTERS team will help ensure you are safe.
Stay with your friend and keep talking to them.
Do not leave your friend with anyone who you don't know, do not let them leave with anyone you don't trust.
Bring your friend to the nearest staff member tell them that you suspect your friend may have been spiked. 
Try to prevent them from drinking any more alcohol, encourage them to drink water if possible.
As a result of many date-rape drugs being tasteless, odorless and colorless, they are extremely hard to detect. However, the most common signs of a spiked drink include:
SINKING ICE
EXCESSIVE BUBBLES
CLOUDY APPEARANCE